Custom Garden Decor
Superior Garden Decor has been serving commercial and residential properties since 2002, offering a vast selection of over a thousand unique, high-quality cast aluminum products. Whether you're looking to accentuate your garden or business, we have just what you need.
Our family-owned business has a rich history dating back to 1984 when we started as a collision repair shop. Over the years, we have evolved into a premier destination for garden decor.
View our FAQs for more information.
At Superior Garden Decor, we understand that every garden is unique, and we are committed to offering customization options to meet your specific preferences. In addition to our wide selection of ready-to-order items, we also provide custom painting services, allowing you to personalize your garden decor according to your style and taste.
Shipping Costs: The shipping costs will be calculated and added to the overall cost of the items. This indicates that customers are responsible for covering the shipping expenses.

Crating and Freight Shipping: For large and extra-large items, they may need to be crated and shipped via freight. Crating helps protect the items during transit, and freight shipping is a common method for transporting heavy or bulky goods.

Various Freight Options: We have used many different freight options; we have established relationships with multiple shipping providers. This allows us to choose the most suitable and reliable option for each shipment.

Separate Shipments for Multiple Items: When customers order multiple items, some of them may be shipped separately depending on their weight. This suggests that you optimize shipping logistics to ensure efficient and safe delivery.

International Shipping: As of now we do have limitations on shipping services to specific regions or countries.

Variable Shipping Times for Large Items: Due to the size and coordination involved in shipping very large items, shipping times may vary. It's understandable that handling and delivering such items requires extra care and may take longer than standard shipments.

Communication and Updates: You emphasize that you will keep customers informed throughout the shipping process. This indicates a commitment to maintaining good communication with customers and providing updates on the progress of their shipments.

Overall, our shipping process is well-structured and customer-oriented, with an emphasis on ensuring the safe delivery of large items and keeping customers informed about their orders.
Hand Painted: The custom painting is done by hand, which adds a personal touch and attention to detail. Hand painting allows for greater artistic freedom and the ability to create unique designs for each customer.
All-Season Durability: The painted items are coated to ensure durability throughout all seasons. This coating helps protect the paint from weather conditions and extends the lifespan of the artwork.
Discussion of Desires and Vision: We will discuss in detail with you to capture your vision for the product. This collaborative approach ensures that the final custom painting meets your expectations and reflects your personal style.
Customization: Based on the customer's desires and vision, we offer customization options. This means that customers can choose the specific design, colors, patterns, or any other specific details they want for their custom-painted item.

Offering custom painting services allows customers to personalize their purchases and have unique, one-of-a-kind items that match their preferences. The hand-painted aspect and all-season durability further enhance the quality and appeal of your custom-painted products.
Light and Strong: Cast aluminum is lightweight yet strong, making it easy to move around while still being sturdy and well-made.
Wind and Water Resistant: Cast aluminum is resistant to wind and water, making it suitable for outdoor use. Its molded structure also ensures complete waterproofing.
Rustproof: Unlike steel or iron, cast aluminum does not rust, even in the joints. This feature makes it ideal for coastal areas, humid climates, or regions with high rainfall. It can be left outside all year round, including during winter.
Weatherproof: The manufacturing process of cast aluminum eliminates cavities or fissures, making it highly resistant to heat, freezing temperatures, ice, and the sun's UV rays.
Easy to Maintain: The durability and inherent strength of cast aluminum make it easy to maintain. Regular cleaning with a wipe-down to remove dust and dirt is typically sufficient to keep it looking new.
Cost-effective: Compared to other materials, cast aluminum is considered a good value for money due to its longevity. It is an investment in your outdoor space that will last for a long time.
Attractive Appearance: Cast aluminum can be treated in various colors, allowing for attractive patio furniture that complements any outdoor space.
Compatibility with Other Materials: Cast aluminum can be easily combined with other materials such as wood, wicker, synthetics, and glass, providing flexibility in design options.

Overall, cast aluminum is a popular choice for patio furniture and outdoor items due to its combination of strength, durability, resistance to rust and weather, ease of maintenance, versatility in design, and attractive appearance.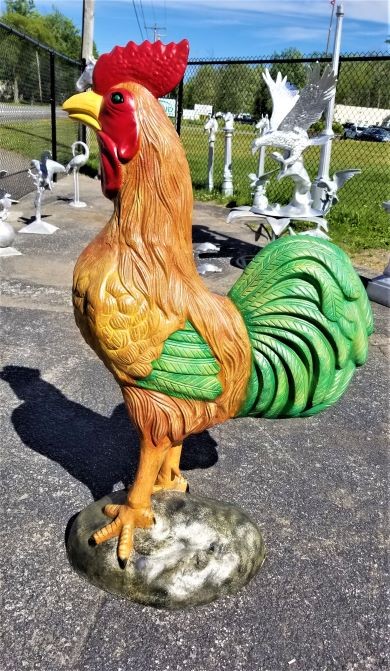 Check out latest products
New Arrivals