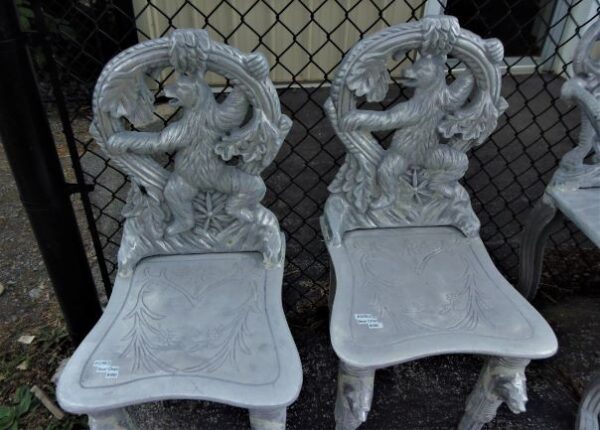 Bear Chair
Unpainted cast aluminum Bear Chair- Proceed to get a free quote for custom painting
Please feel free to submit your inquiry, contact us by phone (585-599-3812), or visit us at our location: 846 Main RD. Route 5, Corfu NY 14036
Description
Welcome to Superior Garden Decor, your premier destination for exquisite commercial and residential exterior cast aluminum pieces. We take great pride in offering a diverse selection of exceptional outdoor furniture that combines unparalleled craftsmanship with timeless beauty. Today, we are thrilled to introduce the remarkable Bear Chair to enhance your outdoor oasis.
The Bear Chair by Superior Garden Decor is a captivating addition to any outdoor setting, be it a tranquil garden retreat, a welcoming patio, or a picturesque park. Meticulously crafted from cast aluminum, this chair exudes both durability and elegance, ensuring its resilience against the elements while adding a touch of sophistication to your outdoor space.
Designed with meticulous attention to detail, the "Bear Chair" showcases the artistry of nature's most enchanting creatures. Each chair features intricately carved bear motifs, capturing their strength, grace, and untamed spirit. This extraordinary craftsmanship creates a seating experience that is as visually striking as it is comfortable.
To suit your unique style and preferences, the Bear Chair is available in a variety of finishes. Choose from our stunning range of painted finishes, carefully curated to harmonize with your surroundings and infuse your outdoor area with vibrant colors. Alternatively, embrace the natural allure of cast aluminum with our unpainted finish, allowing the material's inherent beauty to shine through.
We understand that customization is key to creating your perfect outdoor sanctuary. That's why we offer the option to customize your Bear Chair with your preferred colors through our custom painting service. Let us bring your vision to life by handcrafting a masterpiece that reflects your individual taste and complements your outdoor decor flawlessly.
At Superior Garden Decor, we strive to make our exceptional products accessible to customers nationwide. With our convenient shipping services, you can have the Bear Chair delivered directly to your doorstep, no matter where you are located.
Elevate your outdoor space with the extraordinary Bear Chair from Superior Garden Decor. Immerse yourself in both comfort and style while embracing the untamed beauty of nature.
Please feel free to submit your inquiry, contact us by phone (585-599-3812), or visit us at our location: 846 Main RD. Route 5, Corfu NY 14036