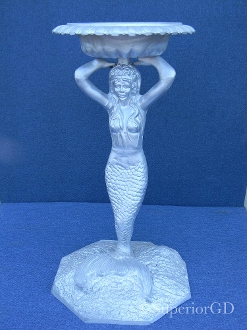 MERMAID BIRDBATH
Mermaid Cast Aluminum Bird Bath – Proceed to get a free quote for custom painting
Please feel free to submit your inquiry, contact us by phone (585-599-3812), or visit us at our location: 846 Main RD. Route 5, Corfu NY 14036
Description
Welcome to Superior Garden Decor, your premier source for exquisite cast aluminum garden decor. Among our exceptional outdoor pieces, discover the Mermaid Birdbath, a harmonious blend of enchantment and functionality.
The Mermaid Birdbath exudes a captivating charm and practicality. Crafted with meticulous attention to detail, it adds a touch of whimsy to your outdoor space, creating an inviting oasis for your feathered friends.
Crafted from durable cast aluminum, this birdbath seamlessly combines exceptional design with durability. It ensures enduring beauty while providing a sturdy and stylish spot for birds to refresh themselves.
For a personal touch, explore our custom painting options. Choose from a diverse range of colors and finishes to customize the Mermaid Birdbath to your unique style, effortlessly enhancing your outdoor surroundings.
With nationwide shipping, customers from all corners of the country can experience the beauty and allure of our Birdbath. Whether envisioned as a delightful focal point or a charming addition to your outdoor space, it surpasses expectations.
Embrace the timeless enchantment of the Mermaid Birdbath by Superior Garden Decor, and let it transform your outdoor sanctuary.
Please feel free to submit your inquiry, contact us by phone (585-599-3812), or visit us at our location: 846 Main RD. Route 5, Corfu NY 14036
Also see the Rose Bud Patio Set