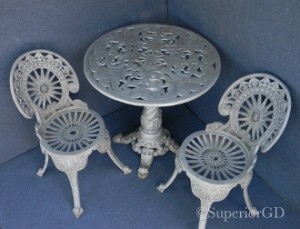 STAR DESIGN PATIO SET
Unpainted Cast Aluminum Star Chair Patio Set – Proceed to get a free quote for custom painting
This item ships freight. Please feel free to submit your inquiry, contact us by phone (585-599-3812), or visit us at our location: 846 Main RD. Route 5, Corfu NY 14036
Description
Welcome to Superior Garden Decor, your ultimate destination for premium cast aluminum garden decor, artfully painted. We offer a diverse selection of outdoor pieces that blend craftsmanship and elegance. Today, we unveil our latest masterpiece: the Star Design Patio Set, designed for style and comfort.
The Star Design Patio Set exudes sophistication. Crafted with meticulous detail, it instantly captures attention, fostering engaging conversations. These elegant chairs and table create an inviting ambiance, encouraging relaxation in your garden or patio.
Crafted from robust cast aluminum, the Star Design Patio Set boasts outstanding design and durability. Its sturdy build ensures enduring beauty, creating a charming outdoor seating area.
For personalization, we offer custom painting options. Choose from a variety of colors and finishes to match your style and outdoor surroundings.
With nationwide shipping, customers across the country can enjoy the exceptional allure of our Star Chair Patio Set. Whether for relaxation or outdoor gatherings, it exceeds expectations.
Experience Superior Garden Decor's timeless Star Chair Patio Set as the centerpiece of your outdoor sanctuary.
Please feel free to submit your inquiry, contact us by phone (585-599-3812), or visit us at our location: 846 Main RD. Route 5, Corfu NY 14036